We've asked in our Facebook what your favorite style of dress was and here I am writing about
Prom dresses for 2015
!
Ah, what can I say about proms?
Simply that they can be magical!
With the right dress and the right attitude, everything can be magical, don't you think?
Leave me a comment telling me what do you think makes you day more magical
TOP TRENDS: PROM DRESSES 2015
DISCLAIMER: This is a sponsored post brought to you by
Milly Bridal.org
and all the information in this post are my true thoughts and opinions. Please, if you would like to send me any products to sample, or write about, please, feel free to contact me. Thanks;
Beaded tops are one of my favorite trends right now.
The close-to-the-neck cleavage in sheer fabric heavily beaded with glass and rhinestones is a the perfect choice for the ones that don't want to show much skin or simply want to party the entire night without having to worry about anything. It also enhances the area of the ones with small bust.
[A-line Bateau Tulle Chiffon dress]
Long or short they are all lovely! Which one is your favorite?
[A-line Bateau Tulle Chiffon dress] [Bateau Tulle Satin Short/Mini with Appliques ]
*
*
*
2. Pastel Colors
Pastel colors are just IN: on Hair, on shoes,on nails and, of course, on prom dresses.
Pastels can give you an either sweet and romantic look or something more edgy, like Pastel Gothic, (or Nu Gothic or even Gothic lite) have you heard of it?
[

A-line Sweetheart Tulle

] [

Empire Sweetheart

dress

]
Acquas, pinks, lilacs, lavander... all cottom candy collors.
[

Column Floor-length Beading Dress

] [

A-line Sweetheart Floor-length w/ Rhinestone

]
With the some Goth accessories you get the perfect marriage between lovely and creepy!
Strass coverd skeleton hand hair clip
Skeleton Hand Jewel
*
*
*
3. Halter top
Halter tops are also another great style for those with a petit body, just small breasted or narrow shoulders; the dresses with beads or rhinestones will emphasize that area in a very pleasant way.
[

A-line Jewel Chiffon

] [Chiffon

Beading Dress

]
You can pick between model with a spicy cleavage or more discrete options.
It's up to you really. What's your favorite style?
[Halter top

Split Front satin Prom Dress

]
*
*
*
4. Lace Appliqué
Absolutely stunning. #Heartbreaker
If you'd want to be the traffic stopper this is what you should go for: a Mermaid silhouette dress with lace appliqués It could be either bauteau or v-neck cleavage. Any color will do. The style of these dresses are simply sexy no matter what you choose. Can you imagine these two styles in black? The first one they have a picture in black here.
[Trumpet/Mermaid Bateau Chiffon] [Trumpet/Mermaid V-neck]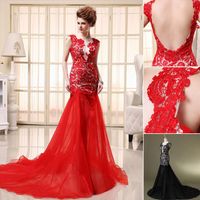 [
Trumpet/Mermaid Bateau Chiffon
]
*
*
*
See-through fabrics couldn't be more in. Specially on floating skirts.
Red is definitely a classic when you want something sexy, but for those that don't think nude can be sexy, take a look at these beauties:
[Split Front Prom Dress]
[
Sheath/Column Chiffon dress
]
See-through fabrics AND Lace appliqué combo!
[
A-line lace and satin Appliques
Dress
] - [
A-line lace Appliques
Dress
]
*
*
*
6. Cut - outs
Sides off and another strategic cut-out (like on the back or under the breasts on the rib-cage) will help you show just enough skin without being too much revealing. It's a playful peek-a-boo effect of just enough!
[
Goddess like
Cut-out Sweetheart dress
]
[

One Shoulder

cut-out back dress

]
[Cut-out
Silk-like Satin Sweep Train Split
dress
]
*
*
*
Sparkles on a nude base is a classic combination, but pair it with a sheer fabric and a modern cut you'll be stunning.
[ Sheath/Column Sweetheart ] [ Strap Chiffon with Rhinestones dress ]
You really can't go wrong with sparkles at prom, but you can modernize them with an elegant and simple updo.
[
A-line Sweetheart Tulle
with rhinestones
]
*
*
*
8. Mini + Tulle
[Scoop Tulle Short/Mini Beading Dress] [Tulle Satin Short/Mini Rhinestone dress]
Who can resist a Mini during summer? Not me. A lot more fun the short dresses made of Tulle are a lot more versatile if you are thinking on wearing them on other parties too. It's like a Spicy fairy-like dress.
Didn't Selena Gomez and Ariana Grande wore a similar style of these
dresses
?
*
*
*
9.Vintage


Classic mermaids or not-so-much sweet frocks are two of my favorite vintage styles.
Marilyn Monroe feelings on the first and Audrey Hepburn feeling on the second.
[

Mermaid Sweetheart Satin

] [

Ball Gown Strapless Tulle

]
By the way, which lady is you favorite vintage diva?
So this is my favorite trend: Minis!
[Bateau Tulle Satin Short/Mini with Appliques ]
Tell me about those appliqués on this red mini dress?
Speaking about appliqués...
This last one would make me feel so ethereal.
Can you believe that it is less than 96USD? WOW
IT's GORGEOUS!
[
Empire Tulle Mini Appliques Prom Dress
]