So I got a package and it was kinda heavy a few weeks ago... I was like, what is this?!
I open and it was the Kopari Products!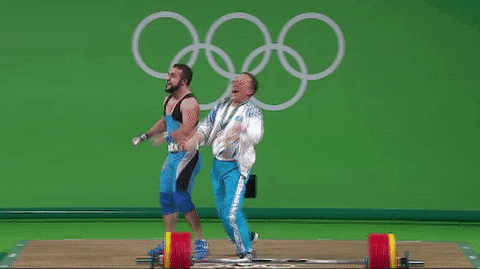 My accurate reaction!
A few weeks ago I posted a review for the Coconut Melt.
I've been using nothing but coconut oil for a month.
I noticed that some people found the formula a bit thick - which is totally understandable because it is and I love it for it - so now I will post another product from the brand with the same great benefits but a lighter formula.
It's the

Coconut Sheer Oil

by Kopari
According to the brand it is a "beauty oil bombshell that does it right and keeps it light. Jam-packed with anti-aging properties, it's a face moisturizing, makeup-removing, split-end-mending powerhouse that can multitask like nobody's business." It has

no silicones, no sulfates, no parabens and no GMO

s.
The website says it is an ideal
daily face moisturizer
perfect for sensitive skin. It is also a great
makeup remover, a cuticule aid
that helps with craggy cuticles. And is a hair product makes the
flyway hairs
cooperate
even with fine hair, without feeling greasy.
Like i said in my last review I was skeptical of that:
An OIL that doesn't feel oily?
bah! Nonsense
- I thought.
🌟
But hey, since I wanted to try it out and since their previous product was so good I gave it a chance (I'm in love with the Coconut Melt! No Kidding!).
🌟
I used the coconut sheer oil as a moisturizer, on my flyaways, cuticules, before make up and after to remove my make up. I love how light, and non greasy it is. Finding a moisturizer that works great, but doesn't leave my skin feeling oily is a challenge that Kopari just solved for me! i was really surprised.
Now that is what I use on the face and I GLOW - once I move to Utah I'll give you an update of how it works for me in the desert and at winter.
Daily face Moisturizer
The texture of the oil is very light. It is kinda hard to explain but it is an oil but lighter with very light coconut smell.
For the Smell I'd like you
to read this post where I address it.
The product has a glass dropper tip that helps dosing the quantity of what you use. I use two drops on each cheek and I spread it with my fingertips.
Coconut oil is naturally heat sensitive. If you live in a cold area you might see some tiny bits of the oil getting hard but don't worry. It is not only normal but also pretty easy to get back to the liquid state: it will melt once touch your warm skin.
Pure coconut oil doesn't absorb quickly — but since this formula contains Shea Butter, you won't have that problem! The
Shea Butter Ethyl Esters helps the ingredients being absorbed by the skin a lot faster.
As a Makeup Remover
Basically this will clean your skin, moisturize it, and nourishing eyelashes. It's a non-brainer wet a cotton or a washcloth and remove the make up on the area.
TIP: However if you wear fake lashes it might melt the glue, so if you don't want to remove them yet avoid the area.
As a MAKE UP thinner
If you are on Instagram you've seen lots of beauty gurus using an oily with some greasy-base make up like contour kits.
This will thin-up the formula leaving your skin to look a lot more natural!
This is how it works: Once you put the oil in the product it will thin the product and make it easier to spread on the skin making it a very light coverage. once you're finished your body will absorb the sheer coconut oil leaving only the make up on the skin.
I used this trick on my wedding day! The make up was super natural and sheer.
Everyone complimented me on how natural looking it was!
Can you believe it i did my own make up and hair? I still can't.
Reasons to try a face oil:
Natural organic oils have many properties such as: being

antibacterial, anti-fungal, and deeply moisturizing.

slowing collagen breakdown, reducing damage from UV exposure, and perking up skin to its former firmer self!

Makeup

remover with the bonus of moisturizing your eyelashes increasing growth;
Lightweight facial moisturizer;
Under eye treatment. Coconut Sheer Oil works greatly for that;
Fights acne and skin infections;
Hydrate lips

before applying any matte lip crayon or lipstick.

This helps keep your lips hydrated under matte products

It's food for your skin: Nutrition is important not just on the inside but also on the outside,

our body needs healthy fatty acids, so does our skin.

And we all know how a healthy skin glows.
Free-Radical Protection "Many botanical oils, including argan, passion fruit, and African marula oils, are potent antioxidants. In the morning, massage a few drops onto clean skin, wait two minutes, and apply sunscreen or foundation as usual."
Improved Skin Tolerance "Oils can prevent the irritation caused by some anti-aging ingredients. Argan, yangu, and borage-seed oils all decrease inflammation. Smooth one on after your nightly anti-aging treatment. A few drops will be enough to cover your face and calm the skin."
Better Absorption of the minerals and active ingredients from your face cream - "If you apply an oil before your anti-aging cream, the oil molecules behave like tiny Trojan horses, tricking the skin into letting active ingredients—like retinol, glycolic acid, and vitamin C—deeper into the skin and closer to the collagen-producing fibroblasts, all without irritating the surface."
Plumping Skin "In your late 30s, wrinkles suddenly look deeper because the skin's natural oils decrease, the moisture barrier breaks down, and the skin dries out. Most creams contain a little oil, but not enough to make a big difference in water loss. Because oils are lipophilic, or fat loving, they pass though the lipid layer of the skin faster, preventing water loss and plumping skin with moisture more effectively. Olive and coconut oils are great moisturizers."
plus you skin will have a healthy glow!
I absolutely love
Kopari
products, like before I was expecting some plain coconut oil. But nope! Again the list of ingredients makes it worth" Take a look:
Ingredients
:
Cocos Nucifera (ORGANIC Coconut) Oil, Shea Butter Ethyl Esters, Butyrospermum Parkii (Shea Butter) Extract, Tocopherol, Caprylic/Capric Triglyceride, Cocos Nucifera (Coconut) Fruit Extract, Pyrus Malus (Apple) Fruit Extract, Coffea Arabica (Coffee) Extract, Santalum Album (Sandalwood/Iliahi) Wood Extract, Musa Sapientum (Banana) Fruit Extract, Vaccinium Macrocapon (Cranberry) Fruit Extract, Cucumis Melo (Melon) Fruit Extract, Vanilla Planifolia (Vanilla Bean) Fruit Extract, Prunus Armeniaca (Apricot) Fruit Extract.
Have you guys ever tried Face Oil?
I have a Review for the Coconut MELT here! I am SO IN LOVE with the product that you wouldn't believe if I told you.
source: Kopari // Refinery // internet
PINTEREST -IT // SAVE //SHARE
---
---
---